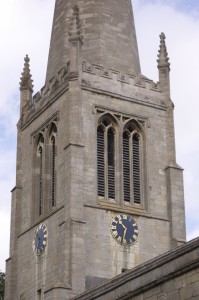 We currently have some urgent project work to do to improve and maintain our Grade 1 Listed church building.
There has been a place of Christian worship at All Saints for over a thousand years. Parts of the present church date back to the twelfth century. Generations since have adapted the interior and exterior over the centuries and it stands as a symbol of God's love to the whole community.
It now falls to our generation to maintain and enhance its beautiful characteristics for our children and our children's children.
Can you help us?
1.    Digital organ
Organ music has become an integral part of many of our services. It is hard to imagine a wedding, christening or funeral without an organ.
Our old pipe organ became beyond economic repair in 2012 when it required work to repair it costing up to £400,000.
We explored more economically realistic solutions and borrowed funds to enable us to purchase a modern digital church organ manufactured by Copeman Hart.
This excellent organ brought music back to our church but we require the funds to repay the loans we used to pay for it.
Funds needed: £40,000
If you can help you can click HERE to find out how to donate to All Saints or get in touch with the Treasurer to get involved by emailing treasurer@stivesparishchurch.org.uk